Tea Sandwiches for Mother's Day
To help you spoil your Mom or Mother figure in the tastiest way possible, we developed three recipes that are PERFECT for your Mother's Day brunch, lunch, or afternoon tea. We have all the classics: Cucumber Sandwich, Smoked Salmon & Cream Cheese Sandwich, and a Roast Beef Croissant.  We also have some tips on how to make each sandwich option look it's best!
Brunch ideas
Bring whimsical and refined charm this Mother's Day with a stunning brunch for the mom who doesn't want anything. Pair these delicious tea sandwiches with a table that's sure to impress using your best China, colourful tulips, and a COBS Bread gift card on her plate for the most delicious gift of all.
Brunch recipes
Tying in the ultimate brunch for mom is the star of the show – the food! We have three recipes for a delicious (and easy) Mother's Day brunch.
Cucumber Sandwich
We decided to put a spin on this sandwich by using our Cape Seed Loaf! The nuttiness really compliments the light and fresh taste from the cucumber & cream cheese. Get the full recipe here (it couldn't be easier!). Our top tips for creating a beautiful cucumber sandwich are:
For that wow factor we loved creating a pattern for the top slice of bread. You can either go with circles, or stripes like ours. For the striped effect you will simply need to use a vegetable peeler and peel strips of the cucumber, then lay them on top of each other.
Make sure you use an extra sharp knife when slicing the sandwich into logs so that you get a neat cut.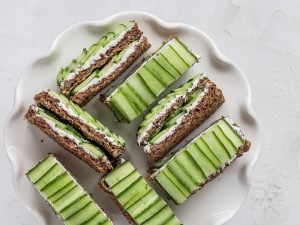 Smoked Salmon & Cream Cheese Sandwich
Smoked salmon, dill, cream cheese, and our Country Grain Loaf all work in harmony to create this stunning little sandwich. Get the recipe here. To make this sandwich a standout, follow the steps below:
To get the perfect rectangles we recommend slicing your bread BEFORE adding the cream cheese & smoked salmon, this way you won't squish the cream cheese out of the sandwich when you're cutting it.
Mix your cream cheese & dill first, so that when you spread it on your bread you get the little specks of dill in every bite.
We love that you can see all the layers in this sandwich, so don't be light-handed when adding your fillings. Two layers of smoked salmon and a nice ¼" layer of cream cheese will do the job.
Roast Beef Croissant
OK, so both our other tea sandwiches are classics so we had to give you one that was a bit different, but still oh so cute and delicious. Enter this roast beef croissant, get the recipe here. This one is a fun one to put together because you can get a little more creative, see below for our best tips to assemble this sandwich!
If a full croissant is too large for your setting, you can also cut them into quarters! We recommend slicing your croissant with a bread knife or one with a serrated edge so you can get a clean cut.
To give the croissant a little more intrigue, we recommend using the shaved roast beef to create movement. What does this mean? Well, instead of simply laying a piece of roast beef flat on the croissant, layer it, drape it, or scrunch it so that it has a bit more height.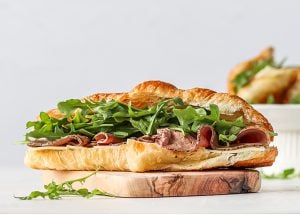 With these three tea sandwich recipes you'll be able to nail a DIY high tea at home for Mom. Don't worry, we also have you covered on the sweets too. You definitely can't forget the scones, a crucial part of a high tea! Choose some of Mom's favourites here.
If you make any of these or put on a Mother's Day brunch, we'd love to see it! Tag us @cobsbread on social.
When is Mother's Day?
Shower mom with love on May 14, 2023.
What is a meaningful Mother's Day gift?
Spending time with mom is the ultimate gift. Pair this with good food, a beautiful table, and a COBS Bread gift card for everything she wants. Don't forget to do the dishes and give her some alone time after brunch is complete!
How can I make my Mother's Day special on a budget?
Quality time is absolutely free, but if you add in a brunch prepared by the family, it's a sure way to keep the budget down. Adding a touch of flowers and a clean up crew that doesn't involve mom is all you need for Mother's Day on a budget!