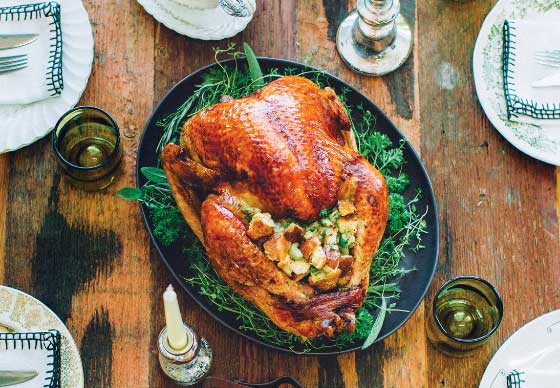 Thanksgiving may look a little different this year, but that doesn't mean you still can't put on a great feast! So we wanted to take some of the stress of planning and searching for recipes online out of your hands this year and bring you a round up of some of our go-to's.
Starting with the (almost) main event! Your turkey's best friend, apart from gravy, STUFFING! Our Sourdough Stuffing with Smoked Bacon is soo delicious and has often become the star of our meals, Thanksgiving or not.
Aside from the turkey, there is nothing that screams holiday meal or entertaining quite like appetizers and side dishes. If you're a crostini lover you have to try this Radish Butter Crostini, it's creamy, salty, and little bit peppery from the radishes. Or you could try these Gorgonzola & Pear Tarts on Sunflower Flax Sourdough for a sweeter option. But if you like both sweet and savoury like us, we recommend trying them both!
For a different take on bruschetta, you could give these Caprese Baguette Bites a try for a quick, easy and delicious appetizer. Making them on baguette slices ensures you get a bit of every ingredient in each bite. Yum!
This next one is quite possibly one of our favourites, because it has that heart-warming, feel-good, ooey-gooey goodness and doubles as another take on bruschetta! Our Baked Brie-schetta with Grilled Baguette Slices is the perfect fall and Thanksgiving treat.
Now that we hopefully have you sorted for Thanksgiving Day, we want to leave you with one last recipe for the day after… With all of that delicious leftover turkey, cranberry sauce and whatever else you have leftover you HAVE to try our Leftover Turkey Sandwich on Sourdough. It is a game changer that will make you wanting to roast a full turkey every month.
We wish you all a happy and safe Thanksgiving! If you do bring us into your homes this Thanksgiving we would love to see how – tag us @cobsbread on social so we can see and share your creations.