What to do with your leftover bread
On the rare occasion we have some leftover slices of bread or haven't transferred the bread to the freezer in time, we know just the thing to do with it! There are SO many delicious ways to use this bread instead of giving the boot.
First off, we have a classic: turn it into croutons! Croutons automatically make any salad better and they're so easy to make. Simply dice any of your remaining slices of bread and bake them in the oven until they are crispy.
Go big with a panzanella salad, elevate your go-to salad, or try making a delicious Caesar salad!
We often forget the most versatile and long lasting way to keep our bread – turning it into breadcrumbs! You can use breadcrumbs to create delicious schnitzels, or use them to bind together a hearty meatball dinner, or making hamburgers and more.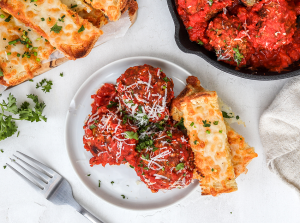 The drier the bread, the finer texture you will get, so we recommend drying the bread out in the oven (you can also turn your croutons into breadcrumbs too!). Once you have dried out the bread, use the pulse function of a food processor or blender and chop until you are happy with the size of your breadcrumbs.
Wanting to make something a little sweeter with your bread? Bread puddings are the answer! Bread pudding is best when made using older bread so it holds it shape better. You take slices of your bread and make a pudding mixture and then bake it in the oven to create a delicious dessert or sweet breakfast.
Check out these two recipes here: Dulce de Leche Bread Pudding or a classic Bread & Butter Pudding.
We all know that sides are ACTUALLY the best part of the meal, so another classic is to turn your leftover bread into stuffing! We recently created a brand-new stuffing recipe using our Sourdough Loaf and it is a new favourite. We often buy a loaf just to make this stuffing and have no doubt you will too. For a classic turkey stuffing recipe, you can try this one out, or for another sourdough stuffing recipe, this one uses bacon to create a delicious flavour!
And lastly, we still use our older bread for a simple toast with jam and butter!
Whichever loaf is your families fave, pick up everything you need today from your local COBS Bread Bakery.