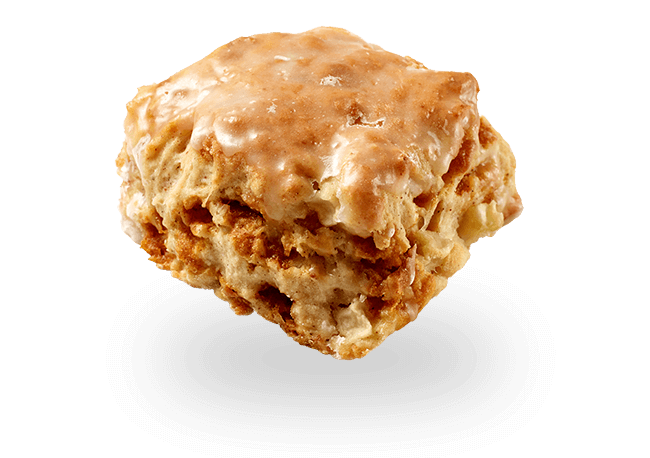 Oozing with Granny Smith apples and salted caramel, each bite will bring you back to the good ol' days of enjoying pie on the porch with grandma.
Available at select bakeries. Ask your local COBS Bread what they're baking today.
Nutritional Information
View complete nutritional info
NUTRITION INFORMATION / VALEUR NUTRITIVE
Per / par 97g (1 Scone)
Amount / teneur
% DV* / % VQ*
Saturated / Saturés

6g


Trans / trans

0.2g
32%
Cholesterol / Cholesterol

15mg
Sodium / Sodium

550mg
23%
Carbohydrates / Glucides

46g
15%
Fibre / Fibres

2g


Sugars / Sucres

16g
8%
Vitamin A / Vitamine A
7%
Vitamin C / Vitamine C
80%
*DV = Daily Value / VQ = Valeur Quotidienne
Ingredients
Butter
Green Apple
Salted Caramel
Vanilla
Cinnamon
See all ingredients
Flour (Wheat Flour, Niacin, Iron, Ascorbic Acid, Thiamine, Riboflavin, Folic Acid, Amylase, Butter (Cream, Salt), Refined Cane Sugar, Buttermilk Powder, Baking Soda, Salt, Vegetable Oil (Canola And/or Soya), Sunflower Lecithin, Protease, Amylase, Apples, Water, Sugar, Palm Oil, Palm Kernel, Salt, Natural Flavours, Caramel Colour, Soy Letcithin, Lactic Acid, Annatto For Colour, Spice (Cinnamon), Sunflower Oil, Nutmeg, Raw Cane Sugar, Corn Starch, Water, 190 Proof Grain Alcohol, Vanilla Bean Extractives (Ethyl Alcohol, Water, Pure Vanilla Extract).

Contains: Milk, Soybeans, Sulphites, Wheat.May Contain: Crustaceans, Egg, Fish, Mustard, Sesame.