Sweet
Berry & White Chocolate Scone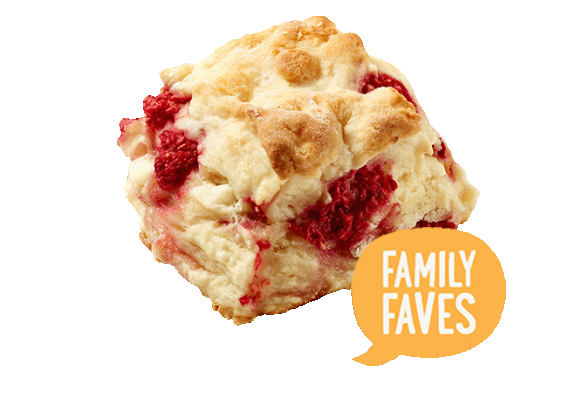 What could go wrong with raspberries and white chocolate chips? Nothing in our opinion – especially when you add it in a scone for the perfect snack on the run.
Family Faves are a collection of customer-selected, favourite loaves, treats, and snacks. The people have spoken (their tastebuds have too) and they all said YUM! Learn more about our fresh-baked bestsellers today.
Learn More
Order Now
Nutritional Information
View complete nutritional info
NUTRITION INFORMATION / VALEUR NUTRITIVE
Per / par 91g (1 Scone)
Amount / teneur
% DV* / % VQ*
Calories / Calories

297.9598
Saturated / Saturés

6.1g


Trans / trans

0.2g
25%
Cholesterol / Cholesterol

20mg
Sodium / Sodium

434mg
19%
Carbohydrates / Glucides

45.7g
15%
Fibre / Fibres

2g


Sugars / Sucres

15.6g
7%
Vitamin A / Vitamine A
0%
Vitamin C / Vitamine C
0%
*DV = Daily Value / VQ = Valeur Quotidienne
Ingredients
Butter
Raspberries
White Chocolate
See all ingredients
Flour (Wheat Flour, Niacin, Iron, Ascorbic Acid, Thiamine, Riboflavin, Folic Acid, Amylase, Butter (Cream, Salt), Refined Cane Sugar, Buttermilk Powder, Baking Soda, Salt, Vegetable Oil (Canola And/or Soya), Sunflower Lecithin, Protease, Amylase, Water, Raspberries, Sugar, Cocoa Butter, Whole Milk Powder, Whey Powder, Soya Lecithin, Natural Flavour.

Contains: Milk, Soybeans, Wheat.May Contain: Mustard.