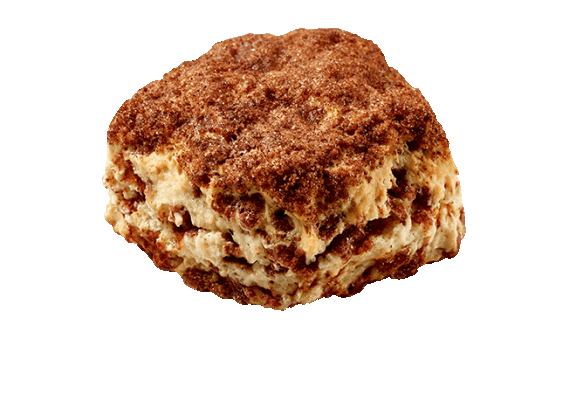 These scones are dense, flavourful, and filled with generous cinnamon flakes and topped with a light sprinkle of cinnamon sugar. Pair with freshly brewed tea or coffee in the morning for a delicious escape, or warm up and serve with apples and vanilla ice cream for a satisfying and surprising dessert.
Order Now
Nutritional Information
View complete nutritional info
NUTRITION INFORMATION / VALEUR NUTRITIVE
Per / par 85g (1 Scone)
Amount / teneur
% DV* / % VQ*
Calories / Calories

339.4991
Saturated / Saturés

8.3g


Trans / trans

0.3g
35%
Cholesterol / Cholesterol

20mg
Sodium / Sodium

428mg
19%
Carbohydrates / Glucides

50.4g
16%
Fibre / Fibres

2g


Sugars / Sucres

19.8g
7%
Vitamin A / Vitamine A
0%
Vitamin C / Vitamine C
0%
*DV = Daily Value / VQ = Valeur Quotidienne
Ingredients
See all ingredients
Flour (Wheat Flour, Niacin, Iron, Ascorbic Acid, Thiamine, Riboflavin, Folic Acid, Amylase, Butter (Cream, Salt), Refined Cane Sugar, Buttermilk Powder, Baking Soda, Salt, Vegetable Oil (Canola And/or Soya), Sunflower Lecithin, Protease, Amylase, Water, Sugar, Vegetable Oil (Palm, Palm Kernel), Cinnamon, Soy Lecithin, Raw Cane Sugar, Spice (Cinnamon), Sunflower Oil.

Contains: Milk, Soybeans, Sulphites, Wheat.May Contain: Mustard.