Artisan
Sunflower Flax Sourdough Loaf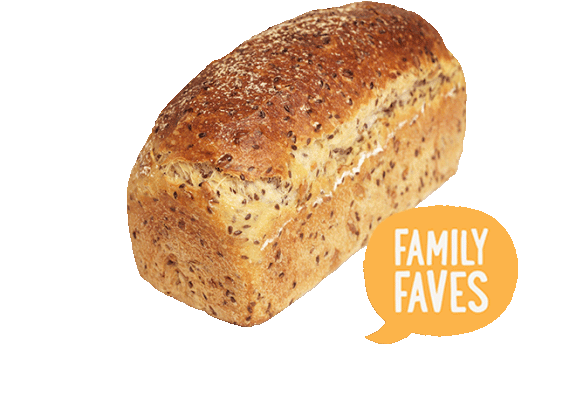 Our Sunflower Flax Sourdough Loaf has a thick crunchy crust and a dense flavourful center. Made from scratch using a traditional recipe that involves an ongoing, time sensitive 20-hour process, this product has the perfect mix of sunflower seeds and flax seeds.
Family Faves are a collection of customer-selected, favourite loaves, treats, and snacks. The people have spoken (their tastebuds have too) and they all said YUM! Learn more about our fresh-baked bestsellers today.
Learn More
Order Now
Nutritional Information
View complete nutritional info
NUTRITION INFORMATION / VALEUR NUTRITIVE
Per / par 103g (2 Sandwich Slices)
Amount / teneur
% DV* / % VQ*
Saturated / Saturés

0.5g


Trans / trans

0g
3%
Cholesterol / Cholesterol

0mg
Sodium / Sodium

450mg
19%
Carbohydrates / Glucides

45g
15%
Fibre / Fibres

4g


Sugars / Sucres

1g
16%
Vitamin A / Vitamine A
0%
Vitamin C / Vitamine C
0%
*DV = Daily Value / VQ = Valeur Quotidienne
Ingredients
Wheat Flour
Levain
Sunflower Seeds
Flax Seeds
See all ingredients
Wheat, Enrichmen-nutrivan Type 40 (Niacin, Iron, Thiamine, Riboflavin, Folic Acid), Water, Flax Seeds, Sunflower Seeds, Salt, Entire Wheat Flour (Wheat Flour), Yeast.

Contains: Wheat.May Contain: Mustard, Soybeans.