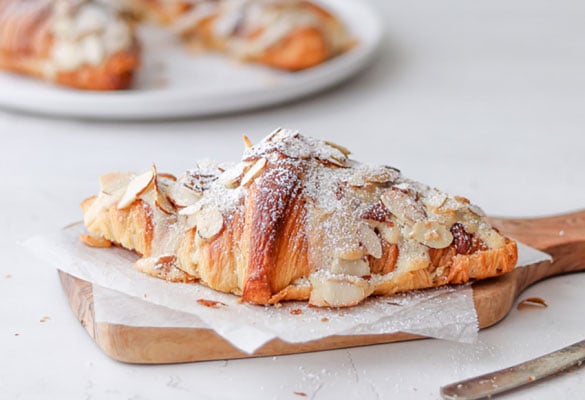 Introducing your new favourite brunch or afternoon treat – an easy, homemade Almond Croissant! One of the best parts is that you can use fresh Croissants or ones that are a few days old. They are deliciously sweet and simple to make. You can even add a drizzle of melted chocolate on top for an extra touch.
Order your Traditional Croissant on Click & Collect to get started
Order Now
Ingredients
8 COBS Bread Premium Straight Croissants
1/2 cup Sugar
1 cup Almond Flour
Pinch of Salt
113g Butter, room temperature
1/2 tsp Vanilla Extract or Essence
2 Eggs
1 cup Sliced Almonds
Powdered Sugar, for dusting
Directions
Preheat oven to 375F.
Mix flour, sugar & salt together. Add butter and vanilla, then mix on high for 1 min.
Add eggs one at a time, mixing well between. Beat until the mixture is smooth, approximately 1-2 minutes.
Slice the croissants in half, and spread 2-3 tbsp of the filling to the bottom halves.
Add the top back on the croissant and spread 1 tbsp of the filling on top. Add sliced almonds on top of the filling so they stick.
Place on a lined baking sheet and bake for 12 minutes. You will know it is done when the filling turns a golden colour.
Let them cool for 10-15 minutes. Then dust with icing sugar, and serve!