Beet Salad with Goats Cheese Cape Seed Croutons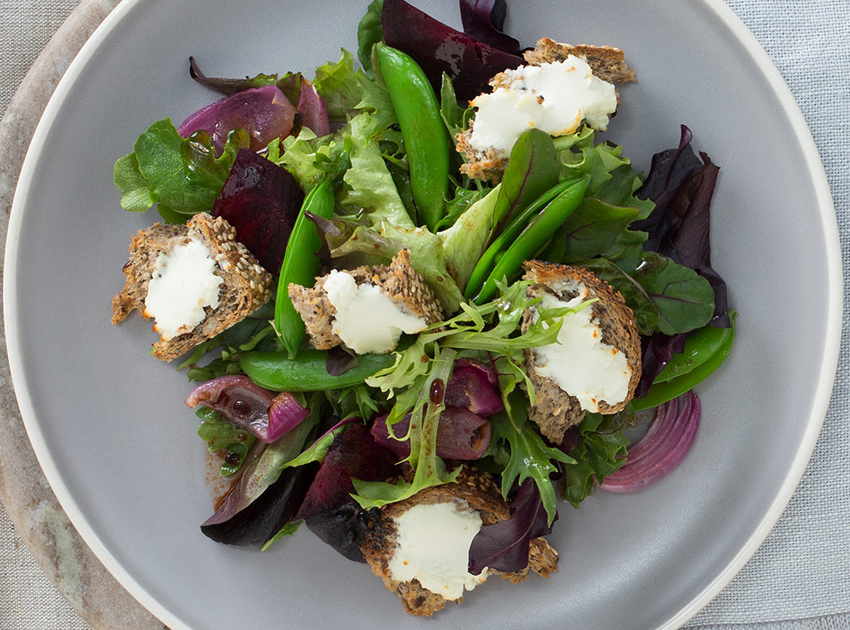 Brighten your salads with vibrant beets and fresh greens. Top with Cape Seed Croutons for extra crunch and flavour.
Ingredients
3 slices COBS Bread Cape Seed Loaf
450 grams goats cheese
1 red onion
12 sugar snap peas
3 Beets
1 bag 4 leaf salad mix
2 Tbsp lemon juice
1/3 cup extra virgin olive oil
1 tsp Dijon mustard
Directions
Peel and cut red onions into 8 wedges.
Preheat oven to 200°C.
Wrap 3 clean, unpeeled beetroots in foil and bake for about 25 minutes or until a skewer can easily be inserted into the flesh. Once the beets have cooked for 25 minutes place the red onion wedges into the oven also.
Continue to cook the red onions and beets for a further 20 minutes. Allow beets to cool to room temperature. Unwrap the beets and gently pull the skin away. Wear rubber gloves to prevent staining, and you may need a paring knife to remove the tough area around the stalk. Slice into wedges and set aside.
Whisk the lemon juice, olive oil and Dijon mustard together in a small bowl. Season to taste with sea salt and freshly ground black pepper.
Cut top end off sugar snap peas and blanch in simmering water for 2 minutes. Drain and set aside.
Lightly toast the Cape Seed slices, then lather with goats cheese and place under the grill until lightly browned.
To serve, place mixed leaves in middle of plate with roasted onions, beetroot and sugar snap peas. Cut the goat cheese-topped Cape Seed slices into rough bite sizes pieces and scatter on plate.
Drizzle with dressing and enjoy!
Tip: Want to save time (and maybe your kitchen counters)? Use canned beets as an easy alternative.