Caramelized Onion Cheese Toasty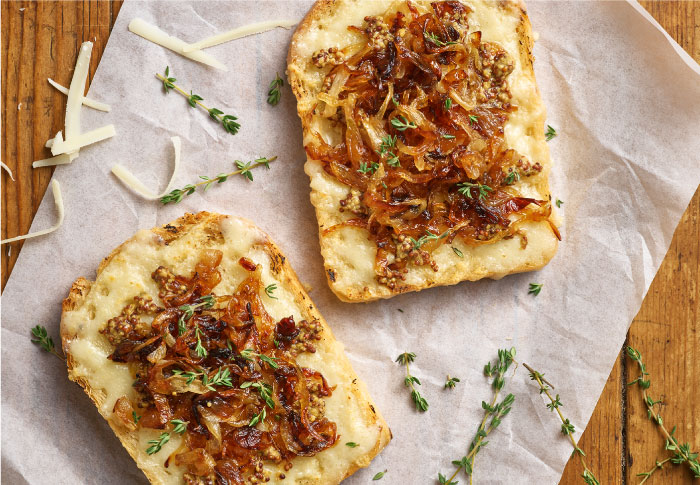 Sweet, salty, zesty. This grilled sandwich packs a punch in the best way possible! Made even tastier by using our flavourful Sourdough Loaf we have no doubt this recipe will be on repeat for you soon too.
Order your Sourdough Loaf on Click & Collect to get started
Order Now
Ingredients
4 slices COBS Bread Sourdough Loaf
2 medium Brown Onions
1 tbsp Honey
4 tbsp Grainy Mustard
1 cup Cheddar Cheese, grated
1 cup Gruyere Cheese, grated
1 tbsp Thyme, finely minced
2 tbsp Butter
Directions
Preheat a frying pan over medium-low heat, while finely slicing your onions.
Add butter to the heated pan, once melted add in the sliced onions. Cook these over medium-low heat for 10 minutes, stirring every 2 minutes.
Add the honey and minced thyme to the onions, then stir for a further 5 minutes until caramelized. Take off the heat.
Grate your cheeses, and mix them together in a bowl.
Turn your oven on to broil on high.
Spread a generous amount of grainy mustard to each slice of sourdough then top with the cheese blend.
Add the caramelized onions to each slice then place these on a baking tray.
Cook in the oven for 4-6 minutes, or until the cheese is melted and golden brown.
Take the pan out of the oven and serve!