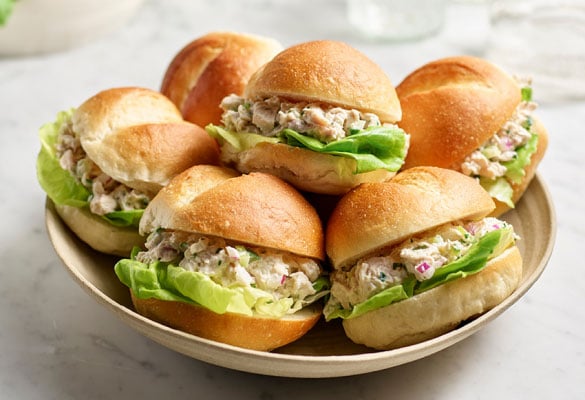 These Chicken Salad Rolls are the perfect way to prep your childrens' lunches before the school week. Make a big batch of the chicken salad mix and add them to our delicious Higher Fibre Lunchbox Buns and you're ready to go!
Ingredients
COBS Bread Higher Fibre Lunchbox Buns 6-pack
300g Shredded Chicken
3 tbsp Mayonnaise
1/2 Cucumber, peeled & shredded
2 tbsp Red Onion, finely chopped
1 tsp Dill, finely minced
Pinch of Salt & Pepper
Lettuce of your choice
Directions
Preheat oven to 425F. This step is optional if you want toasted buns.
On a parchment lined oven tray, place the bottom side of the buns on one side and the top side of the buns on the other side, cut side up. Bake for 4-5 minutes.
While the buns are toasting, mix all other ingredients in a small bowl.
Carefully take the buns out of the oven and transfer bottom side of the buns to a cutting board.
Add lettuce to the bottom part of the buns.
Add the chicken salad mix on top, then complete the rolls with the top half.