Easy Striploin Steak Sandwich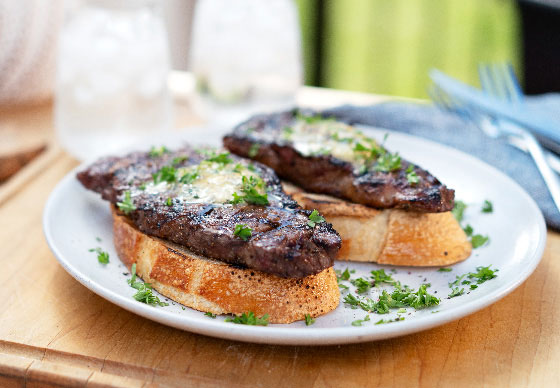 In this recipe: Sourdough Vienna
Think the luxury of steak, with the simplicity of a less than 30 minute recipe. This easy sandwich has it all: steak grilled to perfection, a garlic-shallot butter, and a crusty Sourdough Vienna. Meat lovers reunite: this is the only way you want to be grilling up steak.
Ingredients
1 COBS Sourdough Vienna
4 Striploin Steaks, ½ inch cut
1 tbsp kosher salt
1 tbsp course ground black pepper
½ cup salted butter
1 shallot, finely minced
2 cloves garlic, finely minced
½ lemon, juiced an zested
3 tbsp vegetable oil
Directions
Add shallots and 1 tbsp of butter to a pan and cook on medium heat for 3 minutes, or until butter is melted. Add garlic and cook for 2 minutes. Reduce heat and add the remaining butter. Reduce heat to low, and cook for 3 minutes, or until butter is melted.
Remove saucepan from heat, squeeze in thelemon, and add your zest. Pour liquid into a small container and put it in the fridge.
Season steaks liberally with salt and pepper 30 minutes before grilling.
Preheat grill to highest heat.
Place steaks directly on grill. Every 2 minutes, rotate each steak 90° and continue until desired tenderness. Pro Preference: Grill until medium-rare or until temperature reaches 127°F.
Remove from grill, and add 1-2 tbsp of butter to each piece. Let sit for 5-10 minutes.
Spread oil on each slice of Sourdough Vienna, and grill for 3 minutes or until slightly toasted.
Assemble sandwich by adding steak between 2 slices of Sourdough Vienna. Serve immediately.