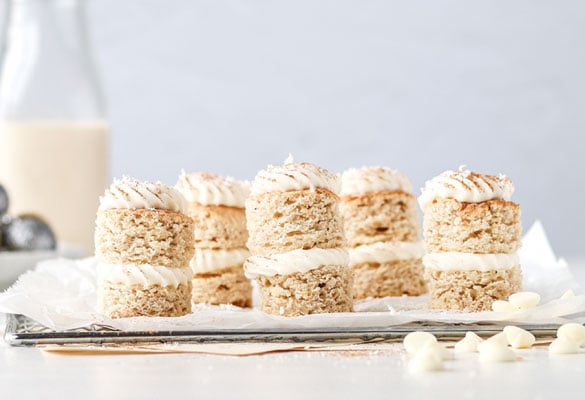 These are the perfect festive canapé dessert: Eggnog Scone Bites! Using un-iced Eggnog Scones, simply cut the scones into circles and then whip up a mouth-watering eggnog frosting to pipe in between and on top of the scones! Dust with cinnamon and white chocolate on top to serve.
Ingredients
4 COBS Bread Eggnog Scones, un-iced
25g White Chocolate Chips
60g Eggnog
Pinch of Ground Cinnamon
1 cup Icing Sugar
Directions
Measure eggnog and white chocolate chips using a kitchen scale. Using a microwave safe bowl, heat in bursts of 20 seconds until the white chocolate has melted.
Using a whisk, thoroughly mix until fully combined.
Place the eggnog ganache in the fridge to cool (minimum 1 hour).
After one hour, take the ganache out of the fridge and preheat your oven to 425˚F.
Using an electric mixer, combine the icing sugar and ganache and whip until you reach a piping consistency.
Start preparing your Eggnog Scone Bites. Using a cookie cutter, cut the scones into circles. Then slice these in half or thirds, depending on how thick you want the scone pieces.
Place scone pieces on a parchment lined baking tray and bake for 3-4 minutes, or until slightly crisp on the outside. Let the scones cool completely before icing.
To assemble, place the eggnog icing on the bottom scone piece, then top with scone and more icing. To garnish, dust your bites with cinnamon and shave some extra white chocolate on top.