Hot Cross Bun Breakfast Sandwich Recipe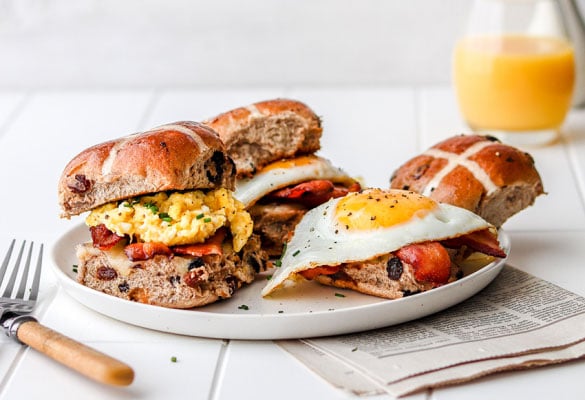 Take your breakfast sandwiches to the next level by using a Traditional Hot Cross Bun! However you like your eggs it works any way! Poached, scrambled, or sunny side up, they're all delicious options.
Order your Traditional Fruit Hot Cross Bun on Click & Collect to get started
Order Now
Ingredients
Sunny Side Up Eggs
6 large Eggs
4 tbsp Cooking Oil
1 tbsp Water
Pinch of Salt & Pepper
Scrambled Eggs
6 Large Eggs
2 tbsp Butter
1 tbsp Plain Yogurt
Pinch of Salt & Pepper
1 tsp Chives, finely diced
Sandwich
6-pack COBS Bread Traditional Hot Cross Buns
6 slices Swiss Cheese
6 slice of Bacon
Directions
Sunny-Side Up Eggs:
Add cooking oil to a medium, non-stick frying pan and turn on element to medium heat.
Once oil is warm (not hot) slowly crack each egg into the pan, careful not to overcrowd the pan. Cook until edges starts to turn opaque white. Add water and let it simmer.
Cook until all of the egg white is opaque in colour.
Season with salt & pepper, take off heat and set aside (eggs still in the pan).
Scrambled Eggs:
Add butter to a medium, non-stick frying pan and turn on element to medium heat.
Crack all eggs into the frying pan and using a rubber spatula, stir the eggs until whites and yolks are combined.
Taking the pan off the heat every 30 seconds (30 seconds on heat, 15 seconds off heat), constantly stirring with rubber spatula, this will ensure a creamy scrambled eggs. Cook for 3 minutes.
Take off heat and stir in yogurt. Take off heat and set aside.
Sandwich:
Preheat Oven to 425F. Slice the hot cross buns in half and place all of them on a parchment-lined pan.
Add cheese slices to the bottom half of each hot cross bun and bake for 3-4 minutes until the cheese has slightly melted.
Using the same pan place bacon and bake in oven for 3-4 minutes, or until cripsy.
Add bacon slices on top of the cheese then top with your eggs.
Garnish with finely diced chives and add the top of the hot cross bun on top and enjoy!