Hot Cross Bun Chocolate Parfait Recipe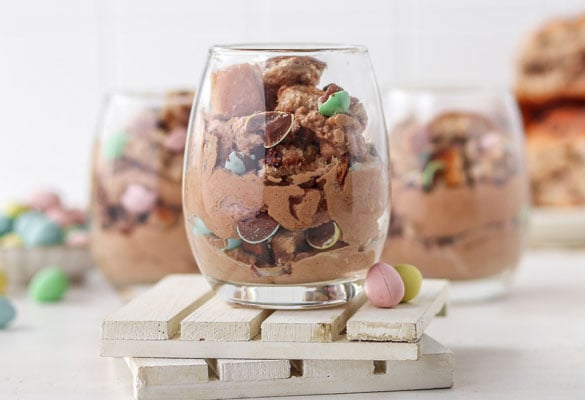 Chocoholics, this one's for you. The combination of COBS Bread's new Triple Chocolate Chip Hot Cross Buns, chocolate mousse, and mini eggs is sure to be the star of your next springtime or Easter afternoon tea.
Ingredients
Chocolate Mousse
4 Large Eggs, whites & yolks separated
6 tbsp Chocolate Chips
6 tbsp Butter
1/2 tsp Vanilla Extract
6 tbsp Confectioner's Sugar
1 cup Whipping Cream
Hot Cross Bun Parfait
6-pack Triple Chocolate Chip Hot Cross Buns, cubed
1 cup Mini Eggs, crushed
Directions
Preheat oven to 425F.
Cube your hot cross buns and place on a parchment lined baking tray.
Bake for 3-4 minutes or until slightly brown and crispy. Set aside.
Prepare chocolate mousse: in a microwave safe container, add chocolate chips and butter, heating for 30 seconds on high. Mix thoroughly and heat for another 15 seconds, mixing thoroughly after. Chocolate and butter should be completely melted, do not overheat as butter may scald and separate. Set aside.
Using a whisk or hand mixer, whisk egg whites in a mixing bowl, whisking it to soft peaks.
Gradually add in the confectioner's sugar, adding 2 tbsp at a time. Continue whisking/mixing until all of the sugar is incorporated and mixture has reached hard peaks.
Fold in the melted butter/chocolate mix into the whisked egg whites.
Using a whisk or hand mixer, whisk whipped cream to hard peaks. Do not overmix to prevent whipped cream from splitting. Set half of the whipped cream aside for topping.
Fold in the other half of the whipped cream into the chocolate mousse mix.
Assembling the parfait
Add 2 tbsp of chocolate mousse to the bottom of your cup or container.
Add a few pieces of the toasted hot cross bun pieces and 1 tbsp crushed mini easter eggs.
Repeat one more time, then top with a dollop of whipped cream and a few more mini easter eggs.