Hot Cross Bun Toasted Delight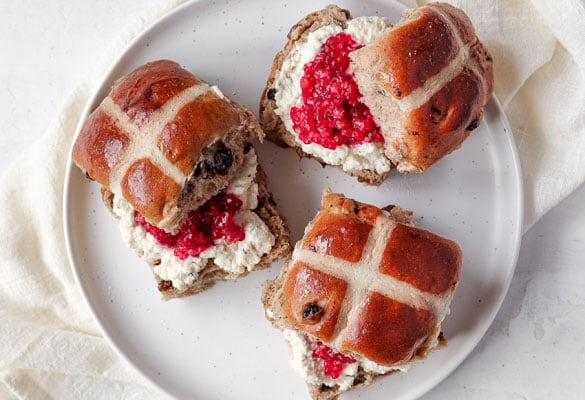 To elevate your hot cross bun experience, slice toasted Traditional Fruit Hot Cross Buns in half and spread this delicious ricotta and raspberry mixture for a delicious breakfast or afternoon snack with your favourite tea.
Order your Traditional Fruit Hot Cross Bun on Click & Collect to get started
Order Now
Ingredients
6-pack Traditional Fruit Hot Cross Buns
1/3 cup Ricotta Cheese
1 tbsp Honey
1 tsp Vanilla Essence
Black Pepper, to taste
1 cup Raspberries, mashed
Directions
Mix all the ingredients, except raspberries, until completely blended.
In a small bowl, macerate the raspberries with the back of a fork.
When ready to serve, slice hot cross buns in half length-wise, and toast in an oven under broil.
Spread ricotta mixture on the bottom half of the hot cross buns.
Top with raspberries and the top of the hot cross bun. Enjoy!