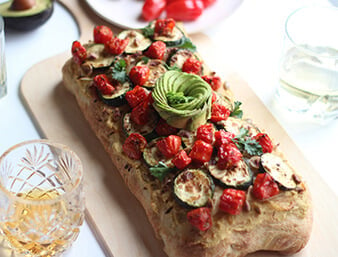 Ingredients
MEDITERRANEAN FLATBREAD
1 COBS Turkish Bread
1 medium zucchini, sliced
1 cup grape tomatoes, sliced in half (or use 1 large tomato, chopped)
3 Tbsp oil (avocado or extra virgin olive oil)
1 bulb garlic, sliced in half horizontally
1 Tbsp oil (avocado or extra virgin olive oil)
1 large onion, sliced
1 Tbsp oil (avocado or extra virgin olive oil)
1 Tbsp sugar (brown sugar, white sugar, agave syrup, honey)
7-8 pieces pitted olives, chopped (optional but recommended)
1 half avocado (as garnish, optional)
salt (to taste)
black pepper (to taste)
HUMMUS
1 can chickpeas, drained and washed
1/4 cup avocado oil (or extra virgin olive oil)
2 Tbsp lemon juice (juice from 1/2 lemon, to taste)
3 Tbsp tahini (aka sesame paste)
3 cloves garlic
1 tsp salt (or to taste)
1 tsp black pepper (or to taste)
water (optional)
Directions
HUMMUS RECIPE
In a food processor or blender, add the drained chickpeas, avocado oil (or extra virgin olive oil), lemon juice, tahini, garlic cloves, salt and pepper.
Blend together until smooth, and taste for salt and pepper. If you're using a blender, you may need to use a tablespoon of water at a time to help it blend better. I added ~3 Tbsp of water to mine to make it smooth.
ROASTING THE VEGGIES
Preheat oven to 400°F.
In a bowl, add the zucchini and tomatoes. Toss the veggies with 3 Tbsp of oil, salt and pepper.
On a baking sheet lined with parchment paper or non-stick mat, spread the veggies evenly in a single layer.
Make an aluminum foil packet, place the bulb of garlic in it, and close. Place the foil packet on to the baking sheet.
This recipe is pretty intense so feel free to visit Jomama Eats where Jomar has outlined the directions step- by-step!
Try our new Mediterranean Flatbread recipe provided by Jomar at Jomama Eats and discover a new way to enjoy our Turkish Bread.
COMMENT: The rest of the instructions are missing, ie. How long to roast the veggies, and how to serve the veggies with the Turkish