Peach & Prosciutto Summer Focaccia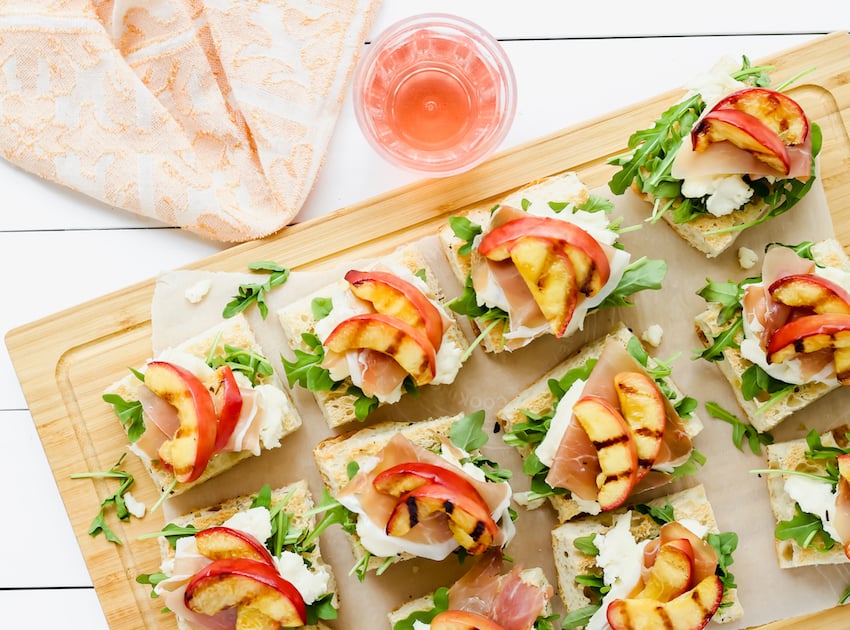 This scrumptious recipe from foodie blogger Cooking in my Genes pairs peach & prosciutto with Italian Herb Focaccia for an appetizer that screams summer!
Ingredients
1 COBS Bread Italian Focaccia
2 peaches, sliced into 12 pieces per peach
250 g soft mozzarella, divided into 12 pieces
3 cups arugula
6 slices prosciutto, cut in half
extra virgin olive oil
Directions
Heat grill to 400F.
Divide the mozzarella into 12 pieces.
Cut the focaccia into 6 squares and then each square into half for a total of 12 pieces of focaccia.
Slice each peach into 12 slices. When the grill is ready, drizzle the slices with extra virgin olive oil and then grill each side of the sliced peach for about 2 minutes, until nice grill marks appear. Then remove from the grill and set aside. Keep the grill on.
Toast the focaccia for about 2 minutes on the grill, just on the inside part of the bread (not the crust side) and then remove from the grill.
To assemble layer arugula, then a piece of mozzarella, a piece of prosciutto folded in half and top with 2 slices of grilled peach.
Serve and enjoy!
Visit Cooking in my Genes for more recipes!