Pesto Chicken Focaccia Sandwich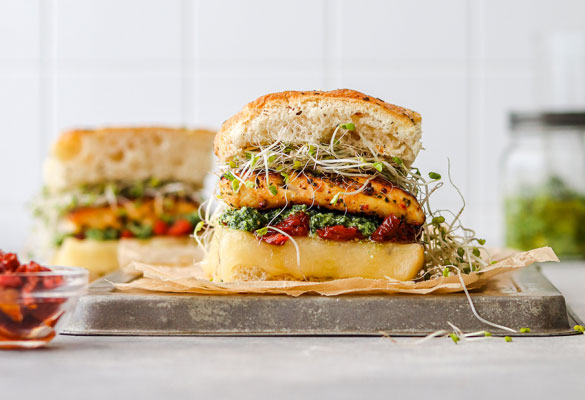 Bring the café experience home with you! Pick up our Italian Herb Focaccia on your next visit and give this pesto chicken focaccia sandwich a try. It is an easy lunch that comes together in less than 30 minutes.
If you want to try your hand at making your own pesto, get our fave pesto recipe here!
Order your Italian Herb Focaccia on Click & Collect to get started
Order Now
Ingredients
Marinated Chicken
2 Chicken Breasts, sliced in half & sliced horizontally
6 tbsp Olive Oil
1 tsp Garlic, finely minced
1/2 tsp Dried Oregano
1/2 tsp Chili Flakes
Black Pepper, freshly cracked
Focaccia Sandwich
1 COBS Bread Italian Herb Focaccia
4 Chicken Breast pieces
4 slices Havarti Cheese
4 tbsp Sundried Tomatoes, finely sliced
4 tbsp Pesto
1 cup Sprouts
Directions
Prepare the marinade for the chicken breasts and coat the chicken, letting it marinate for a minimum of 10 minutes.
Place a saucepan over medium heat. Add cooking oil and add chicken breasts.
Cook for 6 minutes on one side, flip each breast and cook for a further 3-5 minutes until breasts are cooked through.
Take the chicken off the heat and let it rest.
Cut the focaccia into 4 pieces (there will likely be 1/3 of it leftover). Cut these in half and place cut side up on a parchment-lined baking pan. Add your cheese slices to the bottom piece of the focaccia.
Place the oven on broil and bake for 1-2 minutes, or until the cheese has melted. Take out of oven and set aside, let cool for 2 minutes.
Add sliced sundried tomatoes on top of the cheese, then top with desired amount of pesto.
Add a chicken breast to each sandwich, then top with a handful of sprouts and the top of the focaccia. Enjoy!