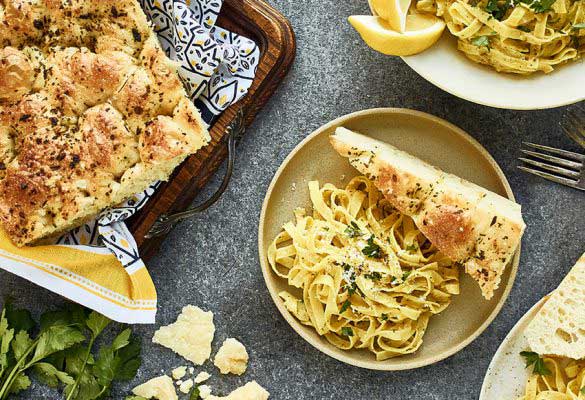 With pesto and fresh Rosemary & Sea Salt Focaccia as a side, your guests will ask for the recipe in a heartbeat! Combining pesto, a fresh pasta and lemon garlic breadcrumbs makes the perfect dish with bright, vibrant colours.
Ingredients
Pesto Linguini
1 Rosemary & Sea Salt Focaccia
500g fresh linguini or dried pasta of your choice
pesto sauce
¼ cup olive oil
2 cups baby tomatoes
Toasted garlic breadcrumbs
Garlic Breadcrumbs
1/4 slab day-old Italian Herb Focaccia
Salt and pepper
3 tsp Garlic Powder
Lemon zest of half a lemon
Directions
Pesto Linguini Instructions
1. Heat oven to 375°.
2. Slice baby tomatoes in half and add to a prepared baking sheet with olive oil, salt and pepper. Roast for 20 minutes.
3. Bring a pot of salted water to a boil. Boil pasta as package indicates.
4. Reserve half cup of boiled pasta water and drain rest.
5. Add pasta water, roasted tomatoes and pesto to pot and mix pasta to combine.
6. Serve and top with parmesan and toasted breadcrumbs (optional).
7. Serve with a side of focaccia triangle.
Garlic Breadcrumbs Instructions
1. Heat oven to 375°.
2. Dry out Focaccia by placing in a pre-heated oven for 15 minutes.
3. Let cool and blend in a food processor until the texture of breadcrumbs.
4. Combine with salt, pepper, garlic powder and lemon zest.