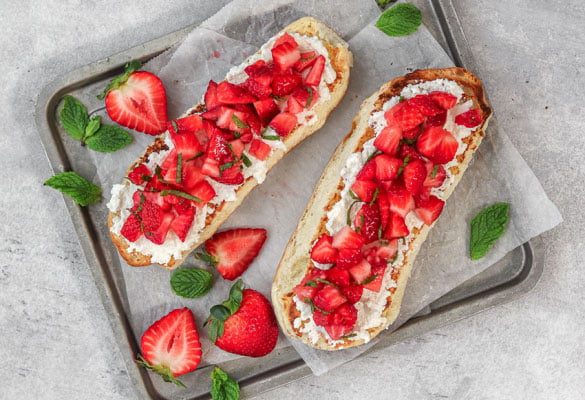 Looking for a summer appy, dessert, or refreshing snack? Look no further than our Strawberry Bruschetta on our Gourmet Hot Dog Bun! Make the most of the berry season and try this at your next BBQ.
Order your Gourmet Hot Dog Bun on Click & Collect to get started
Order Now
Ingredients
3 COBS Bread Gourmet Hot Dog Buns
1 punnet Strawberries
2-3 stems of Mint
1 cup Ricotta
1 tbsp Honey
Directions
In a small bowl, mix the ricotta and honey. Set aside.
Dice the strawberries, and finely slice the mint leaves. In a medium sized bowl, toss them until the mint it evenly distributed.
Heat your grill or frying pan to medium.
Cut the Gourmet Hot Dog Buns in half, and place cut side on the pre-heated pan. Grill to your liking.
Let the hot dog buns cool for 5 minutes before adding the ricotta and honey mixture on top.
Spoon the strawberry & mint mix on top of the ricotta.
Optional – drizzle more honey or a balsamic glaze on top.