The "Bread-y" Caesar Salad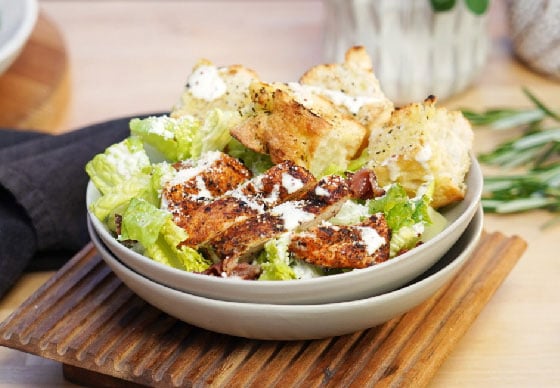 The Caesar Salad was invented by an Italian so thought we'd pay tribute by pairing a delicious Caesar Salad with our hand-crafted Italian Herb Focaccia. Salty, crunchy, herby, and just enough bread to balance out your salad.
Ingredients
Caesar Salad
Italian Herb Focaccia, sliced 2" wedges
½ cup olive oil
1 tbsp sea salt
1 tbsp black pepper
1 tbsp Italian seasoning
½ tbsp garlic powder
1 large romaine
½ cup parmesan cheese
8 slices bacon, cooked
Caesar Dressing
½ cup mayonnaise
¼ cup whole grain mustard
¼ cup olive oil
2 tbsp red wine vinegar
1 tbsp lemon juice
1 clove garlic
1 tbsp capers, rinsed
1 tsp Worcestershire sauce
1 anchovy fillet (optional)
Pinch salt and pepper
Blackened Chicken
4 chicken breasts, fileted
1 tbsp paprika
1 tbsp cayenne
1 tsp onion powder
1 tsp garlic powder
1 tsp salt
1 tsp ground black pepper
1 tsp oregano
½ tsp ground thyme
Directions
Blackened Chicken
Mix all seasonings together, and liberally season both sides of each chicken filet. Let sit for minimum of 1 hour
Preheat BBQ to medium-high heat. Place chicken on BBQ, and grill for 4-5 minutes per side, or until internal temperature is reached of 165 degrees.
Caesar Salad
Brush each side of every Focaccia wedge with olive oil. Then, season with salt, pepper, Italian seasoning, and garlic powder.
Heat grill to medium-high heat. Toast for 8 minutes or until there is slight colour around the edges. Once cooled, cut in to cubes.
For the Caesar Dressing, add all ingredients to a food processor and blend until smooth. Let sit for 2 hours in fridge.
Mix romaine lettuce, parmesan cheese, and ¾ of the Caesar dressing in a bowl, and toss to combine. Top with croutons, bacon, and blackened chicken, and drizzle the rest of the dressing on top.
Serve immediately.