Cape Seed Turkey Sandwich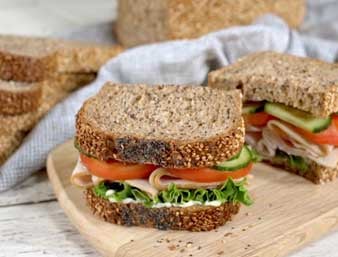 Ingredients
1-2 slices Cape Seed Loaf
2-3 oz (55-85 g) Roast Turkey, preferably fresh/leftover turkey to avoid the added sodium and preservatives. However, if you are using deli meat, choose a low sodium option (<400 mg sodium per serving)
¼ Avocado
Tomato Slices
Cucumber Slices
Green Leaf lettuce
Sprouts
Red Onion
Grainy Mustard
Fresh Cracked Black Pepper
Hot Sauce (Optional)
Directions
In a small bowl, mash the avocado and flavour with fresh cracked black pepper.  Take slice of Cape Seed bread and layer grainy mustard and avocado (drizzling hot sauce for added flavour).  Top with meat and other vegetables.
DIETITIAN TIPS:
• Using avocado as a sandwich spread provides a good source of healthy monounsaturated fats. Evidence suggests that monounsaturated fats may reduce the risk of heart disease. Avocado is also naturally sodium-free, whereas most store-bought sandwich spreads are high in sodium.
• Ditch the deli meat! Deli meat is high in preservatives and sodium, so instead use your own homemade meats. For example, leftover turkey or grilled chicken breast.
• The Cape Seed bread has 6 grams of protein per slice! In addition to the high protein content, the Cape Seed bread also has 0 grams of sugar, 4 grams of fibre per slice, and is a source of iron. This is definitely a bread you can feel good about eating!