Warm Vegetable Panzanella Salad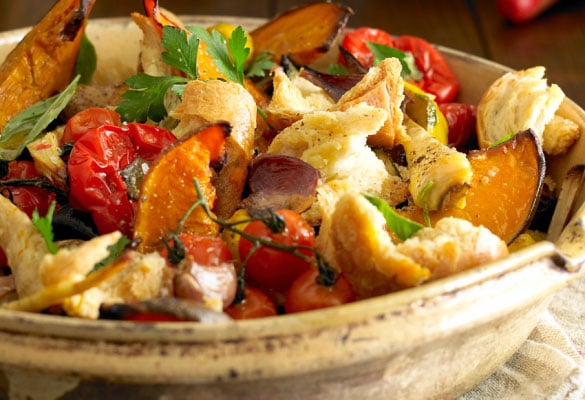 Ingredients
½ COBS Bread Pane di Casa Loaf
2 Tbsp olive oil, plus extra for coating vegetables
400g pumpkin, cut into 2cm chunks
200g kipfler potatoes, washed and halved
1 zucchini, thickly sliced
1 parsnip, peeled and quartered
4 yellow squash, halved
1 red onion, cut into wedges
1 vine of cherry tomatoes
Handful of fresh herbs, chopped (basil, parsley & mint work well)
1/2 cup extra virgin olive oil
2 Tbsp red wine vinegar
2 cloves garlic, peeled and chopped
Sea salt and freshly ground pepper to taste
Directions
Preheat oven to 200°C.
Tear half COBS Bread Pane Di Casa Loaf into crouton sized chunks.
Place bread in baking tray and toss in olive oil. Place in oven and cook until crunchy and golden brown. This should take about 10-15 minutes (check occasionally to make sure they don't burn!)
Chop pumpkin, potatoes, zucchini, parsnip, squash, onion and cherry tomatoes and place on a separate heavy oven tray. Coat in olive oil and season with salt and pepper to taste. Place in oven and roast until tender, approximately 20 – 30 minutes. Test with a skewer into the center of the largest piece of pumpkin/potato. (Note: the tomatoes may discolor – this is fine).
Make a simple dressing with olive oil, red wine vinegar and garlic, seasoned with salt and pepper.
Remove from oven and place in large serving bowl, toss in the crunchy croutons. Add a generous handful of fresh herbs.
Drizzle the dressing over the salad and serve.