Join a Thriving Franchise Network
This is the opportunity for to get in on the ground floor of a unique expansion. COBS Bread may be new to the US, but we are a part of the world's largest bakery franchise, 700+ bakeries strong through Australia, Canada, and New Zealand.
Since the pandemic, COBS Bread bakeries have seen a considerable increase in average operating profit. Our business model is proven, and is strong. And is proving resilient in a pandemic as an essential product and service.
With two bakeries open in CT, we're on the verge of huge opportunity in the Northeastern USA as we become more recognisable, and, let's face it- people learn to love our bread.
No franchise fee required. Apply to open a COBS Bread bakery.
Why Choose COBS Bread?
A Fast Rising Bakery Concept
COBS Bread started in 1980 in Australia as a family run business called Bakers Delight. It is a global network with over 700 bakeries in in Australia, New Zealand, Canada and the U.S.
COBS Bread is an exciting part of the network's ongoing success with over 130 bakeries in North America. By 2022, there will be over 200 bakeries in the U.S. and Canada.
The right fit for the U.S. market
COBS Bread expanded to the U.S. in 2015 where we opened in Stamford, Connecticut. Since opening, the bakery has seen strong year-over-year sales growth, increased brand recognition and a strong base of loyal customers. Based on this success, our U.S franchisee has opened his second bakery in Greenwich, CT.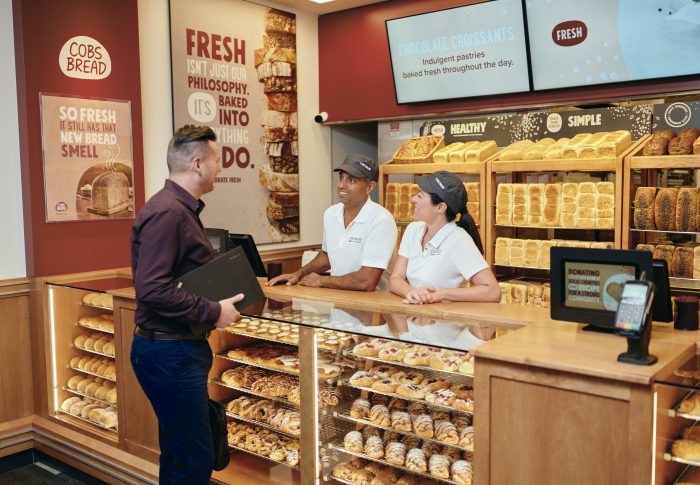 Get support so you're ready to roll
A franchise is perfect for entrepreneurial people who love systems and support but want to minimize risk. As a COBS Bread franchisee, we're here to help you with site selection and lease negotiations, construction, training, marketing, operations and more.
An Area Manager will provide continuous support from opening day and beyond. By helping you set goals, troubleshooting, tracking financial performance and connecting you to the broader franchise network, you're never alone.
At this rate, it's no surprise we've been a Franchisee's Choice Award Winner for 10 consecutive years in Canada!
COBS 3 Key Principles
Franchise Financial Health
The success of our system depends on franchise profitability. It starts with a four month training program before you open your bakery, followed by a one year Franchisee Assessment program that supports you as you grow your business. You'll have full access to network-wide financial results and benchmarks that encourage you to aim high and achieve higher.
Growing the Brand
We're focused on building a strong, healthy, vibrant brand. You'll get the benefits of our network-wide marketing campaigns focused on driving traffic to your bakery, plus a local fund to support your community initiatives.
A Relentless Commitment to the Customer
The customer is the lifeblood of our business, and we deliver personalized service that's unmatched in the industry. We provide a 16-week onboarding program for new franchisees, and offer baker and sales certification programs for your staff so you can exceed expectations in customer every interaction.