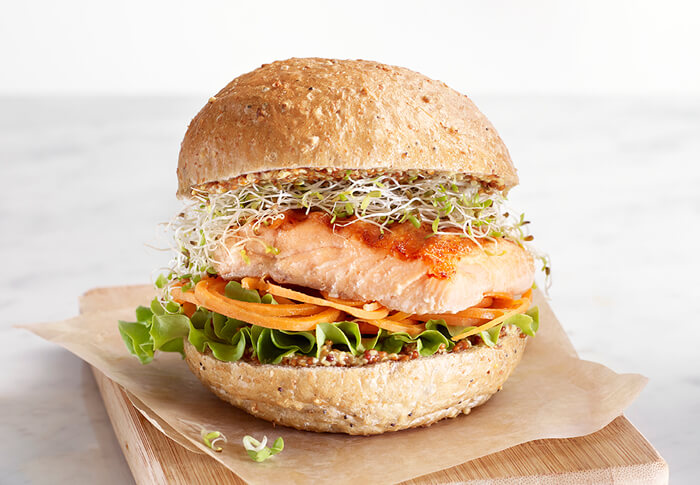 We love these low FODMAP Salmon Burgers for many reasons: they are super quick to make, easy enough to whip up on a week night, and tasty enough for everyone to enjoy. Stack these salmon filets on a LowFOD™ Bun with some Dijon and veggies, and your tummy will thank you.
In this recipe: LowFOD™ Bun
Ingredients
1 COBS LowFOD™ Bun
4 oz salmon filet
2 tbsp cooking oil
1 tbsp Dijon mustard
2-3 green leaf lettuce leaves
¼ cup spiral or grated carrots
¾ cup bean sprouts
Salt & pepper
Directions
Season salmon filet with salt and pepper.
In a medium pan, add cooking oil and set to medium/high. In approx. 1 minute when the oil is hot, carefully place the salmon into the pan. Sear each side of the salmonfor 1 – 2 minutes.
Cook until blots of white spots appear or the salmon is cooked to 145°F/62°C. Set aside and let cool for 3 – 4 minutes.
Slice the LowFODTM Bun in half and toast if desired.
Add ½ tbsp of Dijon Mustard to each side of the bun. Add green leaf lettuce, carrots, cooked salmon and bean sprouts to the bottom of the bun.
Add top piece of bun. Serve immediately.