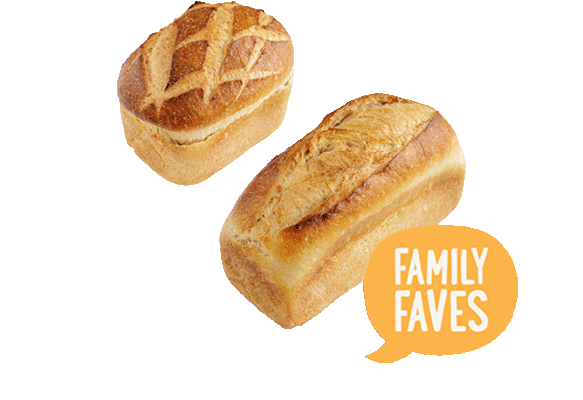 The thick, crunchy crust and dense centre of our traditional Sourdough Loaf is packed with the distinct taste of an authentic artisanal bread. It's a classic that still elevates expectations as a foundation or side. Spread a grainy mustard and top with shaved roast for a delicious sandwich, or toast and butter generously to serve with Saturday morning's bacon and eggs.
Family Faves are a collection of customer-selected, favourite loaves, treats, and snacks. The people have spoken (their tastebuds have too) and they all said YUM! Learn more about our fresh-baked bestsellers today.
Learn More
Order Now
Nutritional Information
View complete nutritional info
NUTRITION INFORMATION / VALEUR NUTRITIVE
Per / par 103g (2 Sandwich Slices)
Amount / teneur
% DV* / % VQ*
Calories / Calories

252.1637
Saturated / Saturés

0.3g


Trans / trans

0g
1%
Cholesterol / Cholesterol

0mg
Sodium / Sodium

559mg
24%
Carbohydrates / Glucides

50.5g
16%
Fibre / Fibres

2g


Sugars / Sucres

0.4g
7%
Vitamin A / Vitamine A
0%
Vitamin C / Vitamine C
0%
*DV = Daily Value / VQ = Valeur Quotidienne
Ingredients
Wheat Flour
Levain
Water
Salt
See all ingredients
Wheat, Enrichmen-nutrivan Type 40 (Niacin, Iron, Thiamine, Riboflavin, Folic Acid), Water, Salt, Entire Wheat Flour (Wheat Flour), Yeast.

Contains: Wheat.May Contain: Mustard, Soybeans.