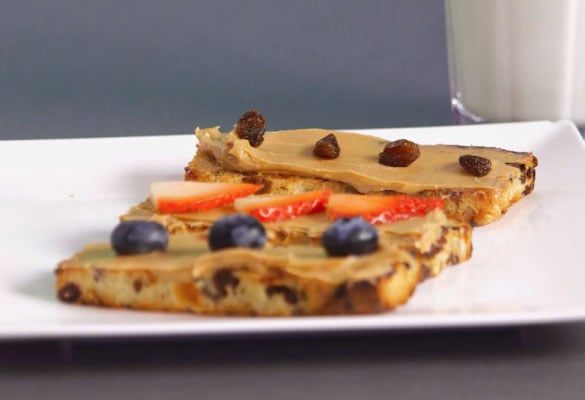 Ingredients
1 x COBS Bread Apricot Delight Log or Loaf
8-12 tbsp Smooth Peanut Butter
Whipped Cream
Blueberries, Raisins, and/or Strawberries (sliced)
Fresh Mint Leaves
Confectioners Sugar
Directions
 Preheat oven to 425F.
Using a bread knife cut the Apricot Delight into a long rectangular shape, save end cuts.
Cut bread into "logs" to a desired size (recommended 4cm x 12cm x 1.5cm). Dice your saved end cuts as well.
On a parchment lined baking sheet pan, place the "logs" and end cuts. Bake for 6-8 minutes or until the "logs" are golden brown.
Take out of the oven and transfer to a cutting board and let it cool down (around 2-3 minutes).
Using a butter knife, spread peanut butter on top of each "log".
Optional step: add dots of whipping cream on top of the peanut butter along the "log".
Add blueberries, strawberries, or raisins on top of each whipped cream dot.
Dust with confectioners sugar and garnish with fresh mint leaves.