French Onion Soup in Sourdough Buns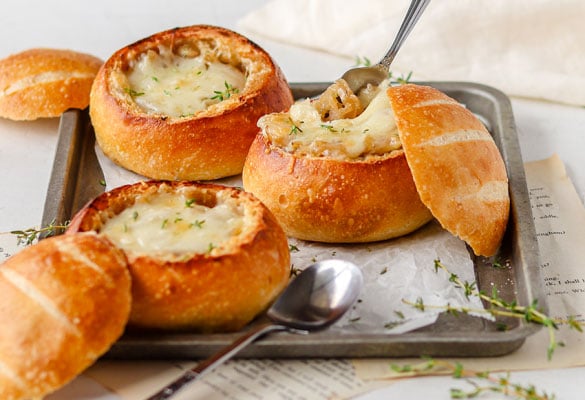 Everyone needs a delicious French Onion Soup recipe in their lives, and this is our FAVOURITE! What's better than cheesy bread on top of French onion soup? A Sourdough Bun bread bowl, filled with the delicious onion soup topped with all of the melty cheese.
These soups are perfectly sized, and are great for entertaining! They look fancy, cute, and are delicious, and can all be made in less than an hour.
Ingredients
French Onion Soup
2-3 Large Yellow Onions
4 tbsp Butter
1L Consummé
4 Bay Leaves
4 twigs of Thyme
Pinch of Salt & Pepper
Soup Bowls
6 x COBS Bread Sourdough Buns
6 tbsp Gruyere Cheese, shredded
2tbsp Parsley, minced (optional)
Directions
French Onion Soup
Peel and thinly slice your onions.
In a pot, add butter and turn on heat on medium. When butter has fully melted, add sliced onions.
Sauté the onions for 5 minutes until slightly brown. Stirring occasionally.
Add Consomme and simmer for 10 minutes. Stir the mixture so the onions don't stick to the bottom.
Add bay leaf and thyme and let the soup simmer for another 15 minutes. Season with salt & pepper to taste.
Take off the heat and drain the soup using a fine sieve/strainer. Keep 1 cup of the consummé mix to add later.
Assembly
Preheat oven to 425F.
While the soup is cooking, you can prepare the sourdough buns by slicing the top off the bun, saving the top for later.
Using a spoon or fork,  hollow out each sourdough bun. Carefully leaving about ½ cm of crust all around the sourdough bread "bowl", this will prevent the soup from seeping out.
On a baking pan lined with parchment paper, arrange the hollowed out Sourdough Buns with the cut side up. Bake for 3-4 minutes, until the inside of the bowl is lightly toasted.
Take the buns out of the oven, and switch it to broil on high.
Using a ladle or large spoon, carefully fill each sourdough bread bowl with the French Onion Soup.
Optional – add 1-2 tbsp of the consummé.
Then complete each bowl by topping it with 1 tbsp of the shredded gruyere cheese.
Place the filled French Onion Soup Bowls back in the oven for 3 minutes or until the cheese is melted. Take out of the oven and garnish with minced fresh parsley, and the top of the sourdough bowl (for dipping).