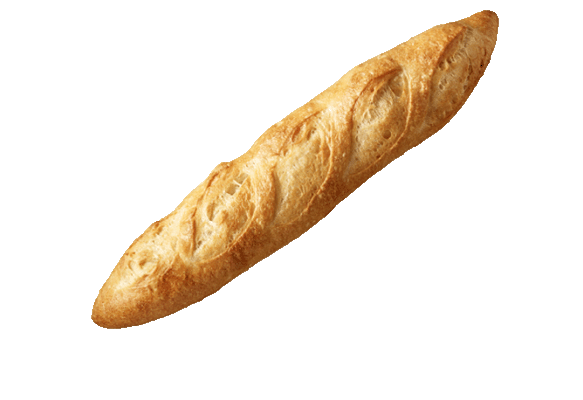 With its fragrant crust and fluffy centre, it's the perfect artisan bread for any meal. From romantic park picnics to impressive breakfasts and elegant canapés, this Parisian favourite is a versatile staple. A nutty flavour and delicate golden crumb make it an amazing accompaniment to a savoury broth or as a foundation for a fresh mozzarella, basil and tomato sandwich. Fan out slices on a cheese board alongside creamy Brie and chčvre, or dip them into a bath of balsamic vinegar and olive oil.
Order Now
Nutritional Information
View complete nutritional info
NUTRITION INFORMATION / VALEUR NUTRITIVE
Per / par 34g (2 Slices)
Amount / teneur
% DV* / % VQ*
Saturated / Saturés

0.1g


Trans / trans

0g
0%
Cholesterol / Cholesterol

0mg
Carbohydrates / Glucides

15g
0%
Fibre / Fibres

0g


Sugars / Sucres

0g
*DV = Daily Value / VQ = Valeur Quotidienne
Ingredients
Wheat Flour
Water
Salt
Yeast
Malted Barley Powder
See all ingredients
Wheat, Enrichmen-nutrivan Type 40 (Niacin, Iron, Thiamine, Riboflavin, Folic Acid), Water, Salt, Yeast, Malted Barley, Wheat Flour, Dextrose.