Bacon and Avocado Breakfast Burger Recipe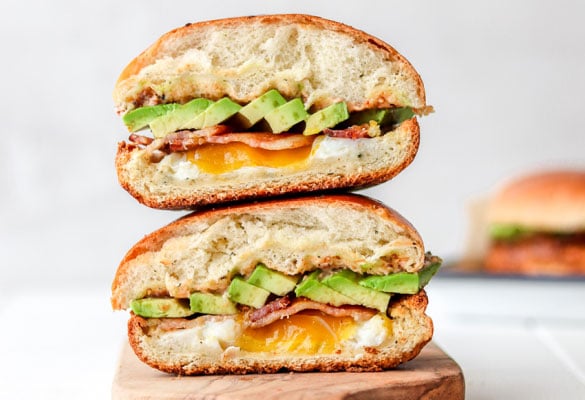 This hands-off bacon and avocado breakfast burger is our new favourite way to do Sunday brunch. Made with our extra tasty Herb & Garlic Gourmet Hamburger Bun, there are only a few steps needed to bake this burger.
Optional add-ons to take your breakfast burgers to the next level!
Alfalfa sprouts would be great to top your breakfast burger with.

Other sauces, whether you're into hot sauce, BBQ sauce, chipotle mayo, this burger is ready for any and all of them!

Cheese is always a good idea too. If you are adding cheese, we recommend adding a slice to the top bun and adding this to the oven until the cheese gets nice and gooey.
Bacon and Avocado Breakfast Burger FAQ
What is a typical breakfast burger? 
A typical breakfast burger consists of hamburger buns, eggs and bacon. Additionally, might include a grilled or fried patty (usually beef, but sometimes sausage or bacon), topped with breakfast-inspired ingredients such as fried or scrambled eggs, cheese, bacon or sausage, and may include additional toppings like lettuce, tomato, or avocado 
Is it OK to eat a burger for breakfast?
A breakfast burger can be a perfect start to your day, especially if it's a delicious bacon and avocado breakfast burger. With crispy bacon, creamy avocado and delightful Herb & Garlic Gourmet Hamburger Buns, it combines satisfying flavours to enjoy your breakfast burger.
What is a good breakfast to make in the morning?
In the morning, there are several great breakfast options to consider. You can make scrambled eggs with veggies, prepare overnight oats, enjoy a filling breakfast burger, have avocado toast, or blend a nutritious smoothie. Choose the option that suits your taste and dietary preferences for a satisfying start to the day.
Ingredients
4 COBS Bread Herb & Garlic Gourmet Hamburger Buns
4 large Eggs
8 strips of Bacon
4 tbsp Mayonnaise
1 tbsp Grainy Mustard
1 tsp Smoked Paprika
Pepper, to taste
2 Avocado's, sliced
Directions
Preheat your oven to 400°F
Slice the Herb & Garlic Gourmet Hamburger Buns in half. Using your fingers, press the bottom half of the bun, making a well in the centre.
Add the bottom halves of the buns on a parchment lined tray and crack your eggs into the well of the buns.
Place 2 strips of bacon around the outside of the egg, on the raised portion of the bun. Place in the oven for 12-15 minutes.
While that is baking, lightly toast the top of the burger bun, to your liking.
In a small mixing bowl add the mayonnaise, mustard, pepper, and smoked paprika. Mix well, then add this to the top of each bun.
Top the baked bacon and egg bun with sliced avocado then the top half and enjoy!