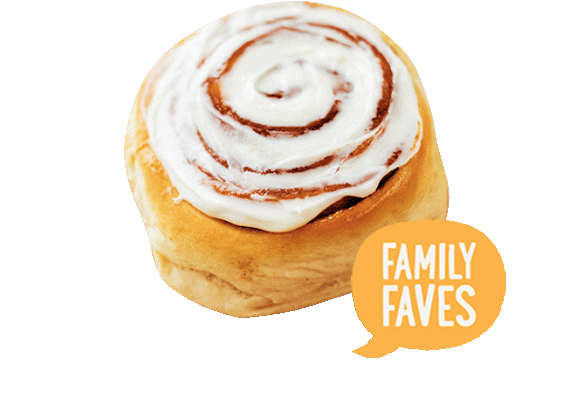 Go ahead…treat yourself with our classic, luscious Cinnamon Buns. We make them with real butter so you get an authentic, home-baked taste. Get your fingers sticky as you unwind the spirals of silky dough, to find a centre coated in a gooey cinnamon sugar glaze. Topped with a rich, smooth cream cheese icing, these buns are so delicious you won't be able to resist picking up one–or two–to enjoy with your morning coffee.
Family Faves are a collection of customer-selected, favourite loaves, treats, and snacks. The people have spoken (their tastebuds have too) and they all said YUM! Learn more about our fresh-baked bestsellers today.
Learn More
Order Now
Nutritional Information
View complete nutritional info
NUTRITION INFORMATION / VALEUR NUTRITIVE
Per / par 130g (1 bun)
Amount / teneur
% DV* / % VQ*
Saturated / Saturés

6g


Trans / trans

0.3g
32%
Cholesterol / Cholesterol

25mg
Sodium / Sodium

460mg
19%
Carbohydrates / Glucides

71g
24%
Fibre / Fibres

3g


Sugars / Sucres

29g
12%
Vitamin A / Vitamine A
0%
Vitamin C / Vitamine C
0%
Potassium Amount=100g Potassium DV=3% *DV = Daily Value / VQ = Valeur Quotidienne
Ingredients
Butter
Cinnamon
Brown Sugar
Cream Cheese
See all ingredients
"Wheat, Enrichmen-nutrivan Type 40 (Niacin, Iron, Thiamine, Riboflavin, Folic Acid), Water, Sugars (Icing Sugar, Corn Syrup Solids), Cream Cheese (Milk Ingredients, Salt, Bacterial Culture, Carob Bean Gum), Shortening (Canola, Palm, Modified Palm And Palm Kernel Oils, Polysorbate 60), Water, Mono And Diglycerides, Polysorbate 60, Potassium Sorbate, Raw Cane Sugar, Butter (Cream), Yeast, Raw Cane Sugar, Canola Oil, Water, Sugar, Glucose Solids, Pectin, Citric Acid, Potassium Sorbate, Sodium Citrate, Spice (Cinnamon), Sunflower Oil, Salt, Dextrose, Wheat Flour (Wheat Flour, Niacin, Reduced Iron, Thiamine Mononitrate, Riboflavin, Folic Acid), Sodium Stearoyl-2-lactylate, Mono And Diglycerides, Amylase, Soya Oil, Ascorbic Acid.

Contains: Milk, Soybeans, Wheat. May Contain: Mustard."