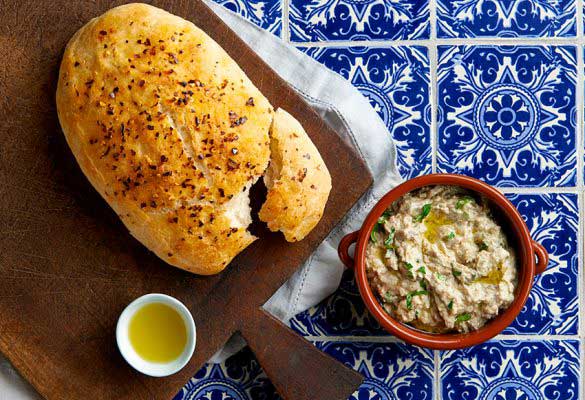 Bring the flavors of the Middle East to your dinner table with our delicious Baba Ganoush recipe. It's easy to make with only a handful of ingredients like eggplant, tahini and garlic cloves, served with our irresistible loaf of Turkish Bread. Be it get-togethers, house parties or bringing a share platter to your next event, this Baba Ganoush is easy to whip up and is sure to impress! 
Baba Ganoush Recipe FAQ
What do you eat with baba ganoush? 
There are a range of side dishes and accompaniments you can serve with baba ganoush. If you're serving it as a platter, serve with carrot sticks or toasted pita chips. You can also serve it with a loaf of bread (like our Turkish Bread), or serve it with fresh salads. 
What does baba ganoush taste like? 
Baba Ganoush has a smoky, earthy flavour with hints of nuttiness from the tahini and brightness from the lemon. It's creamy and savoury, making it a delicious and popular spread.
What culture is baba ganoush from? 
It is a popular dish in Middle Eastern cuisine and has its origins from the Levantine region, which includes countries like Lebanon, Syria, Jordan and Palestine, where it is widely enjoyed as a traditional appetizer or side dish.
Ingredients
1 COBS Bread Turkish Bread
3 large eggplants
1/3 cup tahini
3 garlic cloves, crushed
3 Tbsp lemon juice
1 tsp salt
1/4 bunch parsley
Extra virgin olive oil
Directions
Preheat the oven to 400° F. Roast eggplant on a paper-lined tray for 20 – 30 minutes or until they pierce easily with a knife.
Set aside to cool. Split the eggplants and scrape out the pulp.
Puree the eggplant pulp, tahini, garlic, lemon, parsley and salt in a food processor or blender until smooth.
Add a drizzle of olive oil and extra chopped parsley, then serve with a delicious COBS Bread Turkish Bread.