Sweet
Raspberry & Custard Teatime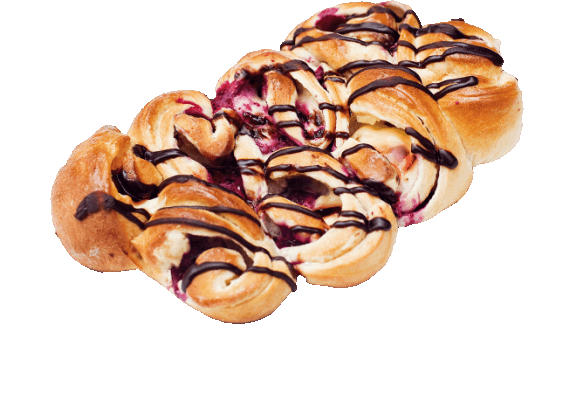 Succulent raspberries and custard filling twist throughout our white fruit dough and are decadently drizzled with chocolate icing. This tasty treat is perfect with coffee or tea and makes a great addition to an afternoon picnic. Try it with ice cream it makes a delicious dessert!
Order Now
Nutritional Information
View complete nutritional info
NUTRITION INFORMATION / VALEUR NUTRITIVE
Per / par 75g (1 Piece)
Amount / teneur
% DV* / % VQ*
Saturated / Saturés

0.5g


Trans / trans

0g
3%
Cholesterol / Cholesterol

0mg
Sodium / Sodium

280mg
12%
Carbohydrates / Glucides

34g
11%
Fibre / Fibres

2g


Sugars / Sucres

8g
8%
Vitamin A / Vitamine A
0%
Vitamin C / Vitamine C
4%
*DV = Daily Value / VQ = Valeur Quotidienne
Ingredients
Wheat Flour
Raspberries
Custard
See all ingredients
Wheat, Enrichmen-nutrivan Type 40 (Niacin, Iron, Thiamine, Riboflavin, Folic Acid), Water, Water, Sugar, Modified Corn Starch, Natural Flavour, Glucono-delta-lactone, Salt, Potassium Sorbate, Titanium Dioxide, Xanthan Gum, Carotene, Raspberries, Icing Sugar, Water, Vegetable Oil Shortening (Palm Oil, Soy Bean Oil, Modified Palm), Corn Syrup, Cocoa Powder, Sugar, Mono-and Di-glycerides, Salt, Soy Lecithin, Citric Acid, Potassium Sorbate, Yeast, Raw Cane Sugar, Canola Oil, Salt, Dextrose, Wheat Flour (Wheat Flour, Niacin, Reduced Iron, Thiamine Mononitrate, Riboflavin, Folic Acid), Sodium Stearoyl-2-lactylate, Mono And Diglycerides, Amylase, Soya Oil, Ascorbic Acid, Water, Sugar, Glucose Solids, Pectin, Citric Acid, Potassium Sorbate, Sodium Citrate.

Contains: Soybeans, Wheat.May Contain: Mustard.