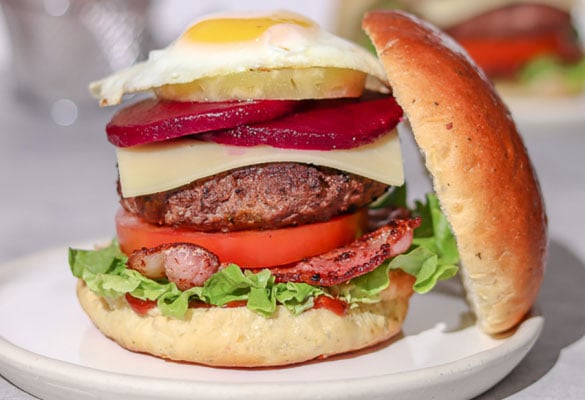 This Aussie inspired burger sure is a mouthful, but every ingredient belongs on this burger for a reason! There is a perfect blend of savoury with sweet little bursts from the pineapple. Paired with our flavourful Herb & Garlic Gourmet Hamburger Bun, this is one burger that will never be forgotten.
Ingredients
4 COBS Bread Herb & Garlic Hamburger Buns
4 Beef Patties
4 Pineapple rings
Butter Lettuce
8-12 slices Pickled Beetroot
4 Eggs, fried
8 strips Bacon
4 slices Cheese
4-8 slices Tomato
4-8 tbsp BBQ Sauce
Directions
Season your beef patties with salt, pepper, and drief oregano.
Pre-heat your BBQ or frying pan to medium-high.
Place your patties on the pan (or grill) and cook for 5 minutes on this side. Fliip and cook for another 5 minutes, until the patty is cooked to your liking.
While the patties are cooking, cook the bacon on a separate pan (or add to the grill). Cook for 7-10 minutes, depending on how crispy you want the bacon.
Once the patties are done, take them off the heat & top each with a slice of cheese.
Add 1 tbsp butter to a pre-heated frying pan. When the butter has melted, add your eggs and turn the temperature to low. Cook until the egg whites are cooked through.
Grill your Herb & Garlic Hamburger Buns, then prepare the burgers by adding 1-2 tbsp BBQ sauce to the bottom bun. Then add bacon, lettuce, and tomato slices.
Add your patties topped with cheese, followed by the beetroot, pineapple and finally the fried egg! And the top of the hamburger bun of course.