California Lovin' Chicken Burger Recipe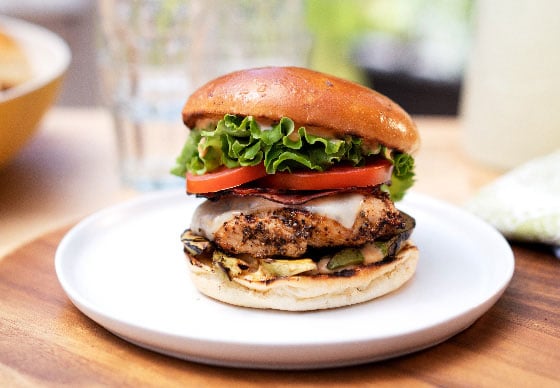 Looking for a chicken burger recipe that breaks the monotony? COBS Bread presents our irresistible California Lovin' Chicken Burger recipe. Learn the secret to perfectly cooked BBQ chicken as we revolutionize your average over-cooked chicken burger. Elevate it with grilled avocado and ham, nestled between COBS Bread Herb & Garlic Gourmet Hamburger Buns. Unleash the ultimate gourmet chicken burger for memorable summer parties or busy weeknights!
California Lovin' Chicken Burger Recipe FAQ
What cheese is best for chicken burgers?
When it comes to chicken burgers, the best cheese options include cheddar for its sharpness, pepper jack for a spicy kick, and Swiss for a mild and nutty flavor. Each cheese enhances the juicy chicken patty in its own unique way, elevating the overall taste experience. Choose your favourite and enjoy a mouthwatering cheese-topped chicken burger today!
What goes good on a chicken burger?
Top your chicken burger with lettuce and tomato slices for a refreshing crunch. Add a tangy kick with the addition of thinly sliced red onion or zesty pickles, which contribute a delightful contrast. Add avocado or guacamole for creamy goodness. These toppings combine to create a harmonious symphony of flavors, taking your chicken burger experience to new heights.
Is a chicken burger healthier than beef?
Chicken burgers are generally considered healthier than beef burgers. Chicken is lower in saturated fat and calories compared to beef, making it a leaner protein option. Additionally, chicken contains less cholesterol. However, the overall healthiness of a burger also depends on factors such as cooking methods, seasoning, and choice of toppings.
Ingredients
Chicken Burger
8 COBS Herb & Garlic Gourmet Hamburger Buns
4 Chicken breasts, tenderloins removed
1 Green leaf lettuce
2 Avocados, firm
1 Beefsteak tomato, sliced thick
6 slices deli smoked ham, sliced
3 tbsp veggie oil
4 slices jalapeno jack cheese
Burger Seasoning
1 tbsp kosher salt
1 tbsp cracked black pepper
1/2 tbsp raw sugar
½ tbsp oregano
1 tsp cumin
1 tsp chili powder
Chipotle Mayo
1 cup mayonnaise
1-2 tbsp chipotle in adobo sauce, pureed
1 tbsp honey
1 tbsp apple cider vinegar
1 clove garlic, finely minced
Directions
Make chipotle mayonnaise by mixing all ingredients together. Store in airtight container and let rest for 4 hours in fridge before serving
Make burger seasoning by mixing al ingredients in bowl
Take chicken breasts and slice in half length-wise. Brush both sides with 2 tbsp of vegetable oil and coat all sides in burger seasoning
Pit and cut avocado in to 1/2 cm thick slices. Brush both sides with 1 tbsp of vegetable oil
Pre-heat grill to medium-high heat. Place avocado slices directly on the grates and cook for 3-5 minutes each side, or until grill mark appears. At the same time, place ham slices on grates and grill for 1 minute per side.
Lower grill to medium heat. Place the chicken on the grill lightly. Pro Tip: remember to not press the breasts down so they attain maximum juiciness! Cook each side for 5-6 minutes, or until they reach 160C. When almost done, place 1 slice of cheese across each breast. Remove from heat and let rest
Toast hamburger buns for 2 minutes, or until lightly toasted
Start assembling burger by placing 2 tbsp of chipotle mayo on the top and bottom of the bun. Then add grilled avocado, chicken breast, ham, tomato, lettuce and top of bun. Serve immediately