Pesto & Pear Grilled Cheese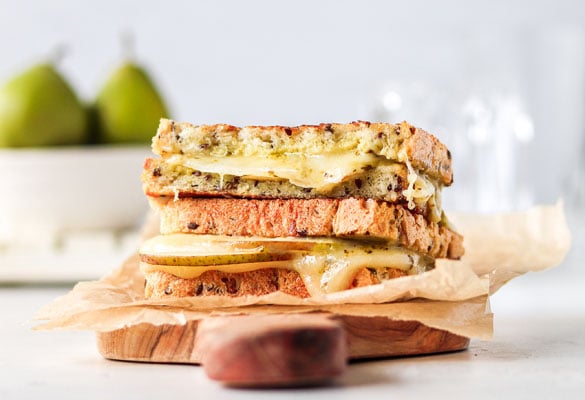 This grilled cheese sandwich has a secret ingredient. OK, maybe two. Thinly sliced pears are the first, and sandwiching that and a load of cheese between our Sunflower Flax Sourdough is the other! It is the perfect combination of salty and sweet.
Ingredients
4 x COBS Bread Sunflower Flax Sourdough slices
1 Bosch Pear, peeled & sliced
2 tbsp Butter
4 slices of Swiss Cheese
2 tbsp Pesto Aoili
Directions
Heat a large frying pan over low-medium heat.
Butter the 4 slices of Sunflower Flax Sourdough.
On 2 of the non-buttered sides of bread, spread 1 tbsp of the pesto aoili. Add the swiss cheese & pear slices.
Place the 2 loaded slices of bread in the pan, then top with the remaining two slices of Sunflower Flax Sourdough, butter side up.
Cook the sandwiches for 2 minutes, or you see the cheese start to melt, then flip the sandwiches to toast the other side for a further 2 minutes, or until the cheese is fully melted.
Transfer the grilled sandwiches to a cutting board, cut the grilled cheese with a sharp knife gently. Note the grilled cheese sandwich is very hot.