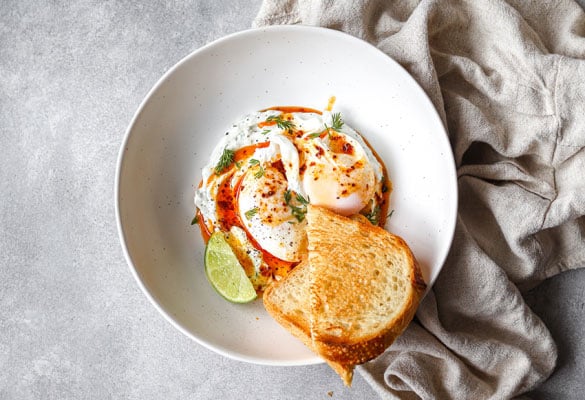 These Turkish poached eggs are called "cilbir" and involve topping a delicious garlic-dill yogurt with poached eggs and a quick, homemade chili butter. Served with some delicious, thick-sliced Sourdough Loaf to soak it all up!
For a perfectly poached egg, here are some of our best tips:
Prepare your eggs and crack them into a small bowl (1 at a time) so you can easily drop it in to the boiling water.
Use a large metal spoon – a soup spoon would be perfect, and swirl your boiled water & vinegar mixture vigorously. This creates the best whirlpool!
For a runny yolk you want to cook the egg for 2 minutes and 15 seconds.
Order your Sourdough Loaf on Click & Collect to get started
Order Now
Ingredients
Garlic-Dill Yogurt
8 tbsp Greek Yogurt
1 clove Garlic, finely grated
1 tsp Dill, finely minced
Pinch of Salt & Pepper
Poached Eggs
4 large Eggs
2L Water
8 tbsp White Vinegar
Chili Butter
4 tbsp Butter
1 tsp Chili Flakes
1/2 tsp Paprika (or Smoked Paprika)
Squeeze of Lime
Directions
To make the garlic-dill yogurt, add all your ingredients into a small bowl & stir until combined. Set aside.
Crack one egg into a small bowl, ready for poaching. You can use this same bowl for each remaining egg also.
In a medium-sized pot, bring your water & vinegar to a rolling boil over medium to high heat.
To poach the egg, make a whirlpool in the water by swirling it with a spoon or ladle. Carefully drop the egg into the middle of the pot & cook for up to 2 ½ minutes. Make sure to keep stirring the water while the egg cooks.
Scoop the egg out of the water with a slotted spoon and place on a paper towel-lined plate. This helps to drain the excess water.
Repeat steps 4 & 5 until all your eggs are cooked.
Chili Butter
Melt butter in a small pan over medium heat. Once the butter starts to lightly bubble, add chili flakes, paprika and a squeeze of lime, stirring until combined.
Take off the heat & set aside.
Assembly
Toast your sourdough slices, then slice them on a diagonal to create wedges.
In a shallow bowl, add half of the garlic-dill yogurt to the middle of the bowl and use a spoon to create a well for the poached eggs to sit in.
Carefully lay 2 of the poached eggs on the yogurt and drizzle with half of the chili butter.
Add your sourdough edges to the side and enjoy!