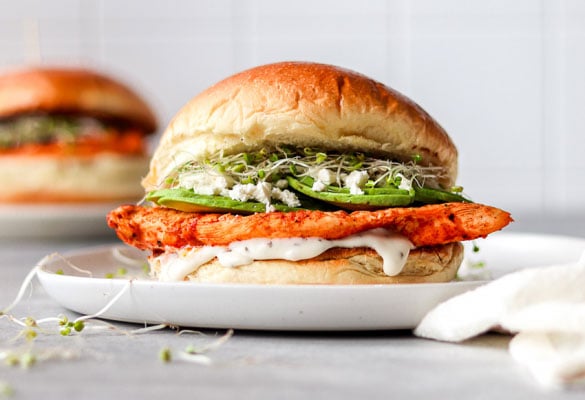 If you're looking for a lighter burger option this summer, then this is for you! From the zesty ranch, to the delicious buffalo chicken, to the full-flavoured Gourmet Hamburger Bun, every bite is more delicious than the last.
Order your Gourmet Hamburger Bun on Click & Collect to get started
Order Now
Ingredients
4 COBS Bread Gourmet Hamburger Buns
2 Chicken Breasts
1 tsp Salt
Pepper, to taste
½ tbsp Smoked Paprika
½ tsp Onion Powder
½ cup Buffalo Sauce
8 tbsp Ranch Dip
2 Avocado's, thinly sliced
1 cup Sprouts
Crumbled Feta or Blue Cheese (optional)
Directions
Put salt, pepper, smoked paprika, onion powder and buffalo sauce into a medium-sized bowl, stirring to combine.
Slice your chicken breasts in half – lengthwise, creating 4 fillets. Add these to the buffalo sauce marinade and let it sit for at least 30 minutes. You can cover it with cling wrap and store overnight.
When ready to cook the chicken, pre-heat oven to 425 & cook the chicken breasts for 18 minutes, or until cooked through.
Take the chicken out of the oven and set aside to rest.
Slice the Gourmet Hamburger Buns and toast them to your liking.
Assemble the burgers – add ranch dressing/sauce to the top & bottom of the bun, followed by lettuce, avocado, chicken, microgreens and cheese.