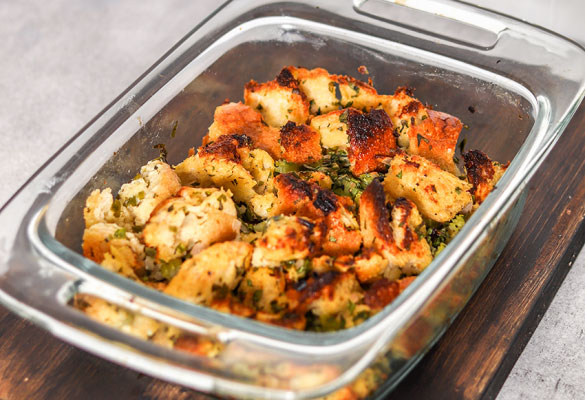 This is quite possibly the most flavour-packed stuffing recipe you will try. Why? For starters, you make it with the tastiest bread – our Sourdough Loaf! It is also made with a delicious mix of fresh herbs, and is baked to perfection. If you're wanting to wow at your next holiday dinner, then you have got to try this herby sourdough stuffing recipe.
Order your Sourdough Loaf on Click & Collect to get started
Order Now
Ingredients
1/2 COBS Bread Sourdough Loaf, unsliced
1 Shallot
1 Celery Stick
1 tbsp Thyme
1 tbsp Chives
1 tbsp Parsley
1 Egg
1/2 cup Vegetable Broth
Parmesan, to garnish
Directions
Pre-heat the oven to 375 & grease your casserole dish.
Finely dice your shallot & celery sticks.
Roughly tear your Sourdough Loaf into chunks of varying sizes.
In a small frying pan, melt 1 tbsp butter then add the celery and shallots.
Once both are soft and starting to brown, add in the thyme, stirring for 1 more minute.
In a medium sized bowl, whisk the egg and veggie broth together until combined. Add in your remaining fresh herbs, a pinch of salt and pepper, and the cooked shallot & celery mixture.
Add the Sourdough and stir until the liquid has been soaked up.
Pour into your prepared casserole dish and bake in the oven for 25 minutes, or until golden brown.
Grate some parmesan on top once the stuffing has cooled a little & serve warm.