Fall might just be one of our favourite food seasons. From hearty soups, tasty grilled sandwiches, to all things pumpkin and fall spices. Every dish is basically a warm hug and we are here to share the love with you. Below are some absolute must-makes as the days get cooler.
A rich and easy breakfast option that is sure to impress anyone! These Turkish poached eggs are nestled in a tasty garlic-dill yogurt and paired with our Sourdough Loaf to soak up all of it.
Start your day with a savoury (yes they exist too) French Toast. Seasoned with parmesan and chives and made even more delicious with our Sunflower Flax Sourdough this is a mouthwatering way to start your day!
We couldn't just choose one grilled cheese recipe, they're all just too good! So we're leaving this one to you, we've included some of our favourite grilled cheese sandwich recipes in this blog post.
If you haven't noticed a trend, sourdough is one of our fave fall loaves to really pack a flavourful punch. So, we thought instead of serving a side of toast with our soup, why not serve it IN the sourdough. Try it yourself with these individual French onion soups.
Meatballs with Cheesy Garlic Sticks
Using our Sourdough Loaf two ways, this hearty dinner is a family favourite in the colder months! The combination of delicious meatballs in marinara and a cheesy garlic sticks is a classic.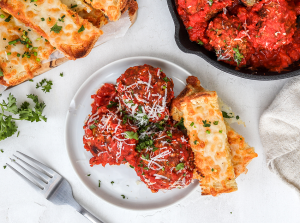 When we first shared this dessert we were overwhelmed with how popular it became! This no-bake pumpkin cheesecake uses our Pumpkin Scones as the base and as decorations on top of a perfectly creamy pumpkin flavoured cheesecake.
Caramelized Banana Pumpkin Split
Who knew Pumpkin Scones could be so versatile! They make the perfect sandwich for this caramelized banana pumpkin split.
Explore the flavours of fall with our Family Faves loaves and everyone's favourite pumpkin treats. Pick up everything you need today from your local COBS Bread Bakery.